My author copy of the Docks arrived this morning. Excuse me while I sound like a proud parent, but doesn't it look good!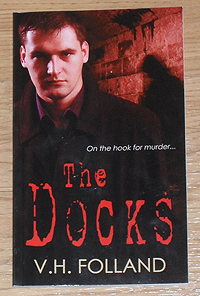 It is a slim, mass-market paperback, with a glossy cover. Please ignore the slight lift to the cover in the photo: when it arrived the first thing I did was read it. The second thing was to go to certain book stores and wave it at the owners, who read it...
It should have been here a few days ago, but apparently DHL couldn't deliver. Royal Mail picked up the slack, and if that's the worst thing that happens while this book is coming out I will be delighted!
The book launch is coming together:
3pm-5pm Book Signing
7pm-9pm Launch Party
And all at Farthing Books!
Here's an online
invitation
. If you'd like more details please contact the store.
The main launch event is in the evening. Drinks, nibbles, interesting people, and lots of books. What more could you want? Entry is free, and refreshments will be provided. However, if you are interested in coming please phone the store to book ahead due to space constraints out of hours. It's from 7pm-9pm, although there's a pub nearby if anyone wants to carry on afterwards!
The book signing is more a convenience: since I'll be in the area (actually, I'll be in the store) setting things up for the evening, I'll be available to sign a few books as well.
Farthing Books
Tel. 020 8660 7688
21 Chipstead Valley Rd, Coulsdon, CR5 2RB (Map)
http://www.farthingbooks.com