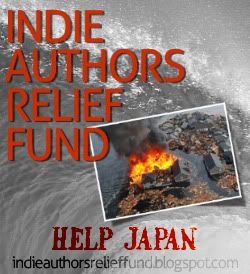 I just saw this online, and as they are asking for promotion and spreading the word, blogging it is the least I can do. Please have a look and donate an item or bid, for a very good cause.
If you are an author or small publisher some of the things up for offer include a manuscript critique and membership in the small publishers association.
For readers and booklovers, there are signed copies, collectibles and more.
As well as the Indie Authors Relief Fund, there are other campaigns underway. Please take a look.
Authors for Japan - Donating all funds raised to the Red Cross, this campaign is no longer accepting donated items after they were flooded with offers.
Write Hope for Japan - A Collection of authors all with a connection to Japan offering childrens and kidlit items to raise funds for Japan